What's Your Skin's Health Score? Get Your FREE Personalized Results.
Take the Quiz
Why Choose Brickell?
Superior Product Using Natural Ingredients
We use only the highest quality natural & organic ingredients in our products, resulting in a superior product.
Made Exclusively for Your Skin
Our formulas have been engineered to deal with men's tougher, more porous skin. Whether oily, sensitive, combo or acne - we have a solution for you.
Thousands of Men Switching Daily
With accolades from major men's magazines & grooming experts, thousands of men are switching to us all over the world.
Over 1,000,000+ Happy Customers
"My complexion looks great and shaving is now an enjoyable experience. I could get used to this."
Les S., Brickell Customer
"I'm loving not only how these products perform, but the fact they're natural. Good work Brickell."
John M., Brickell Customer
Products formulated with the
highest quality natural ingredients
Face Care
Hair Care
Shaving
Anti-Aging
Daily hydration and protection, for healthier looking skin
A more clear, brighter complexion through natural ingredients
Stronger, cleaner hair & scalp through gentle, yet powerful natural ingredients
Volumized, shinier hair through deep moisturizing conditioners
A closer shave through advanced formulation of natural ingredients
Hydrated, non irritated skin post shave with no ingrown hairs
Reduced lines and wrinkles, for a more energized appearance
Brighter, less tired looking eyes
Shop Now
Shop Our Best Sellers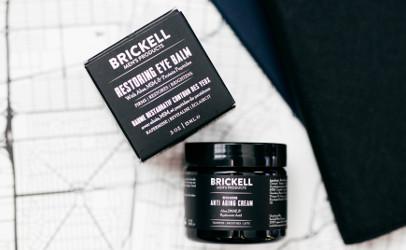 Get a FREE Sample Kit